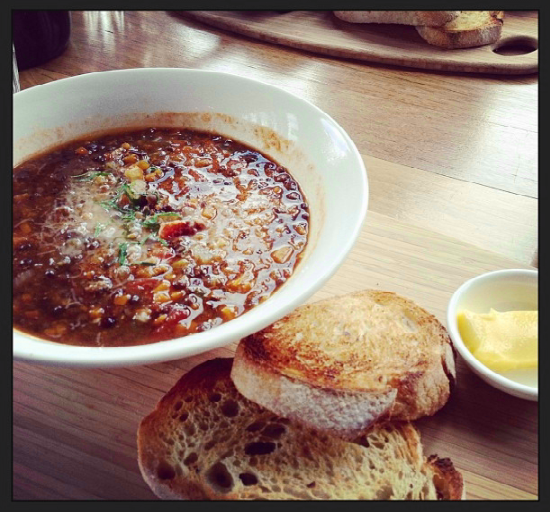 The colder days definitely call for some soup!
This weeks recipe is a 'Vegetable and Lentil Soup' – an easy winter warmer full of fresh vegetables and lentils to give you your daily dose of protein and fibre! A great healthy choice when you are craving a comfort food.
Serves: 4
Ingredients
• 2 tablespoons olive oil
• 1 large onion, finely chopped
• ½ (200g) a bunch of celery, finely chopped
• 2 cloves garlic, finely chopped
• 1 x 400g can chopped tomatoes
• 3 carrots (450g), peeled and finely chopped
• 1 green capsicum (170g), finely chopped
• 2 bay leaves
• ¾ cup fresh basil, roughly chopped (optional)
• 1 tablespoon dried oregano
• 4 cups vegetable stock
• 1 x 400g can lentils, rinsed and drained
• 3 leaves kale, chopped
Method
• Heat oil in a large pot over medium heat. Add onion and celery and cook for 5 minutes or until onion is translucent.
• Stir in garlic and cook for 1 minute or until fragrant.
• Add canned tomatoes, carrots, capsicum, bay leaves, oregano and cook for roughly 2 minutes.
• Pour in vegetable stock, lentils and cook on high heat, until mixture starts to boil.
• Reduce heat to low and simmer for 1 hour, ensure that the pot is covered to reduce water loss. As the soup cooks, add more water if needed to keep the lentils covered.
• Stir in kale and cook for about 5 minutes, until kale is tender and wilted.
• Ladle the soup into bowls and top with fresh basil.
Serve and enjoy!
Did you know?
• This recipe is a great option for anyone following a vegetarian or vegan diet. It is also egg, dairy, gluten, nut and soy free.
• Kale is part of the cabbage family and is very high in vitamins A, C and K. It also contains calcium, potassium, copper and iron. These nutrients are essential for healthy bones, skin and eyes. Kale can be used in a number of different ways such as in pasta, salads and muffins.
• Soup is a great meal for busy people. It is a good idea to double the amount you need, then divide into portions and freeze. This way you have ready-made meals during the week when you are too busy to cook.
• When using canned foods choose ones that have 'no added salt' as canned foods are often contain high amounts of sodium.
• Recipes such as these can help increase vegetable consumption. You can include as many vegetables as you like. Other varieties you may like to use are pumpkin, mushrooms, potato, zucchini or peas.
• Additional herbs and spices can also be added. Lemon, turmeric, bay leaves, star anise, chilli powder, cumin or ground coriander are examples of herbs and spices that can add flavour and aroma without the extra kilojoules or salt.