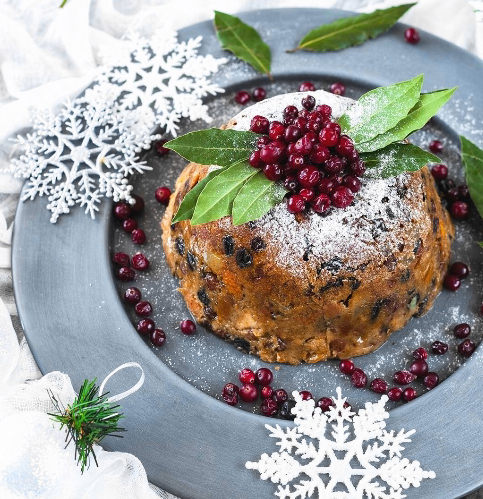 I'm sure I'm not alone when I say that a Christmas feast wouldn't be quite complete without the traditional Christmas pudding. Many households have their own recipe for a rich, fruity and flavorsome Christmas pudding, some handed down through families for generations. However, these days if you are time poor, there are also many convenient Christmas pudding options available on our supermarket shelves. But "how do these options stack up nutritionally?" I hear you ask. We've compared some popular pre-made puddings for you so you can enjoy a healthier Christmas this year.
The Puddings:
– Heston Hidden Orange Christmas Pudding 1.2kg: made with English cider and Spanish sherry, this pudding contains a whole candied orange at its center to infuse the dessert with strong citrus flavors.
– Coles Finest luxury Christmas Pudding 900g: A rich, moist and very festive Christmas pudding
– Woolworths Select matured Christmas pudding with cognac 800g: Rich fruit pudding with vine fruits and cherries, flavoured with brandy, cognac and sherry.
– Lions Traditional Pudding 900g: A traditional pudding rich with fruit and flavoured with brandy and rum
– Aunt Betty's Christmas Plum Pudding 700g: Traditional steamed plum pudding with brandy
– Traditional Homemade Christmas Pudding: A moist steamed Christmas pudding filled with sweet fruit flavours and a hint of brandy.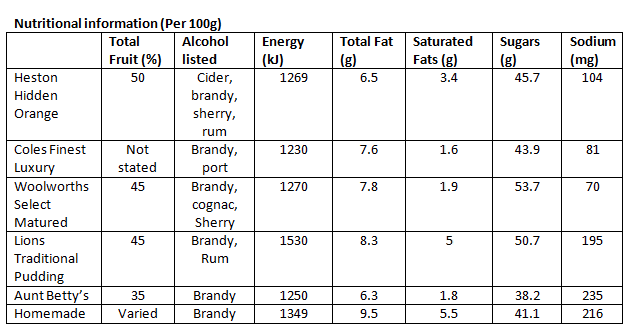 My verdict
As the table above suggests, the good old Christmas pudding can rack up a few kilojoules quite quickly.
In regards to the total fat content, it is important to remember that this value includes the 'good' fats like our mono- and poly- unsaturated fats. So if your Christmas pudding includes things like nuts for example, this will be contributing to the total amount of fat (but in a good way!). Therefore make sure you chose a pudding that is also low in saturated fats.
In addition, be aware of the sugar content in the puddings as a lot of this is added sugars rather than natural sugars from fruits. I recommended looking for a pudding that contains less than 25% of total sugars.
So which one would I chose? My pick would be the 'Aunt Betty's Christmas Plum Pudding' given its lower total fat, saturated fat and sugar content.
If you are the capable cook and want to make a homemade traditional Christmas pudding I would advise that you limit the amount of butter and sugar. The natural sugars in the fruit will allow you to still get a great tasting pudding without the extra kilojoules.
Finally, if you are anything like me, it is inevitable that some Christmas pudding will be enjoyed over the festive season however make sure not to go overboard with your portion sizes!