As some of you might know, I recently was lucky enough to spend a few weeks soaking up the Spanish sun in San Sebastian on a work/personal holiday. The Spanish certainly enjoy a great lifestyle, whether it's the deep sense of community and family, their enviable siestas or the vibrant array of food which makes up their Mediterranean diet.
As you know, the Mediterranean diet which includes lots of fresh fruit and vegetables, legumes, nuts and other healthy fats, wholegrains, seafood and moderate amounts of dairy, poultry and lamb, can be very beneficial for our health. Research has shown that this diet can be beneficial for improving mental health, reducing cholesterol and even assist with weight loss – and this is something that I saw evidently all across Spain from the busy cities to the smaller towns.
Along my travels I picked up a few tips that I wanted to share with you all.
So here is a small snapshot of a few lessons I learned during my stay in Spain!
Lesson #1:
Well, this is more of a Melanie tip, than a lesson from the Spanish, but I'll include it anyway…. Whenever I arrive in a new city for a holiday, whether it be Sydney or San Sebastián, one of the first things I do is go to the local supermarket to stock up on bottled water (if you can't drink tap water) and nutritious snacks such as fruit and nuts. I'll also get some ingredients for meals if I'm staying somewhere with a kitchenette.
The market in San Sebastián took my breath away! So much gorgeous, fresh produce! I always think that a supermarket tells you so much about a culture…
Lesson #2:
Keep things simple. When you have fresh ingredients, you don't need an elaborate recipe. Some fresh tuna topped with garlic, olive oil and fresh herbs served with a side of lettuce, tomato and onion with a drizzle of olive oil makes a nutritious and delicious meal.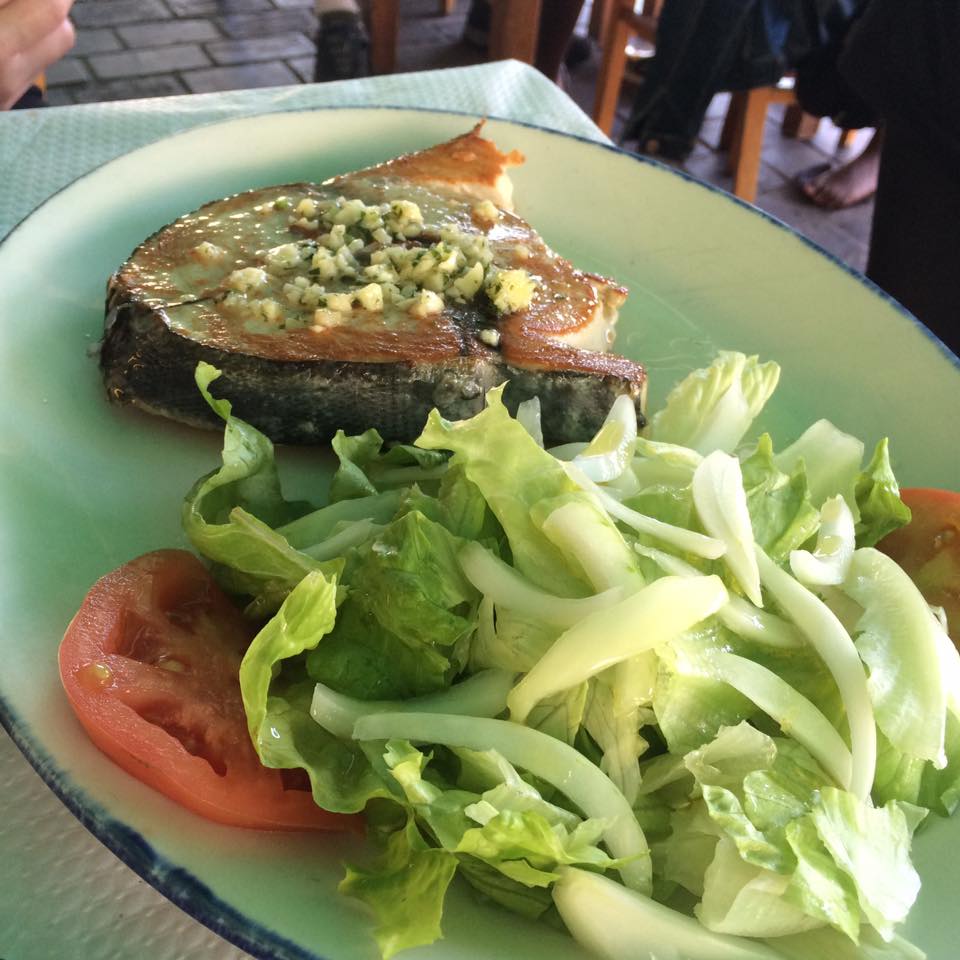 Lesson #3:
Get some Vitamin D. As you can see from the picture, the beaches over here are packed! Obviously too much sun can increase our risk of skin cancer, but not enough can result in Vitamin D deficiency. Vitamin D is essential for calcium absorption so helps to reduce our risk of osteoporosis, but it's also important for gene regulation and researchers believe that it plays a role in preventing a whole host of chronic diseases from obesity to some types of cancer. Current recommendations are that we get outdoors for 10 minutes on a sunny day or 30 minutes when overcast.
Luckily this was easy to do in San Sebastian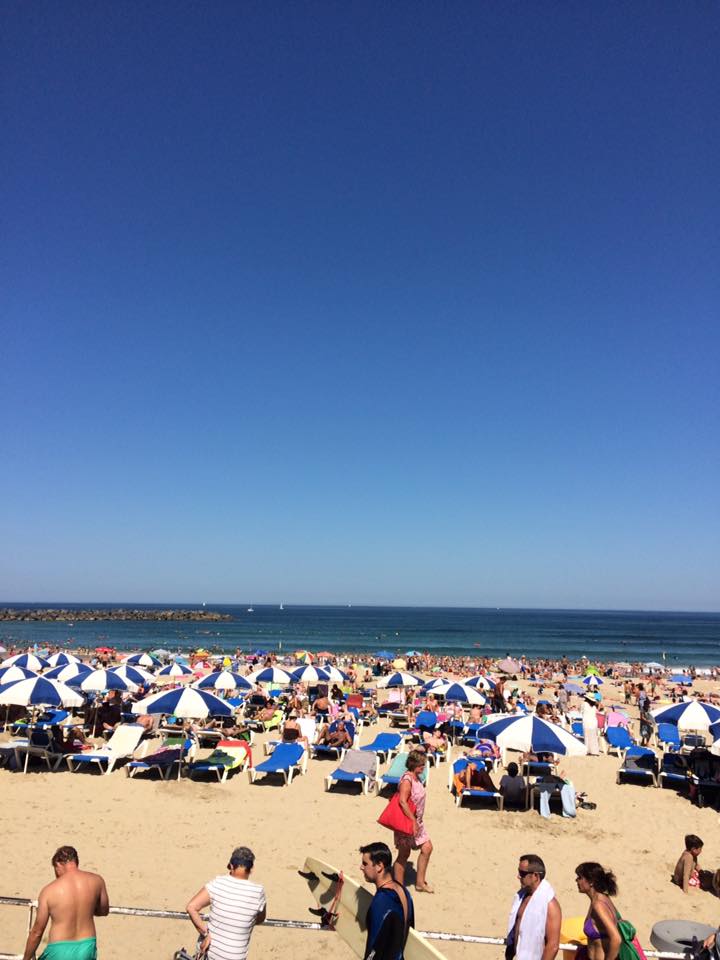 Lesson #4:
Eat the best quality food you can possibly get. I bet you thought this was a black coffee- it's actually a hot chocolate! And, let me tell you it was the best hot chocolate that I've ever had! I've already said that about so many foods this trip: the grilled prawns, the salad, the pineapple… If you get good quality food and enjoy every mouthful you will be so much more satisfied, even with a smaller portion.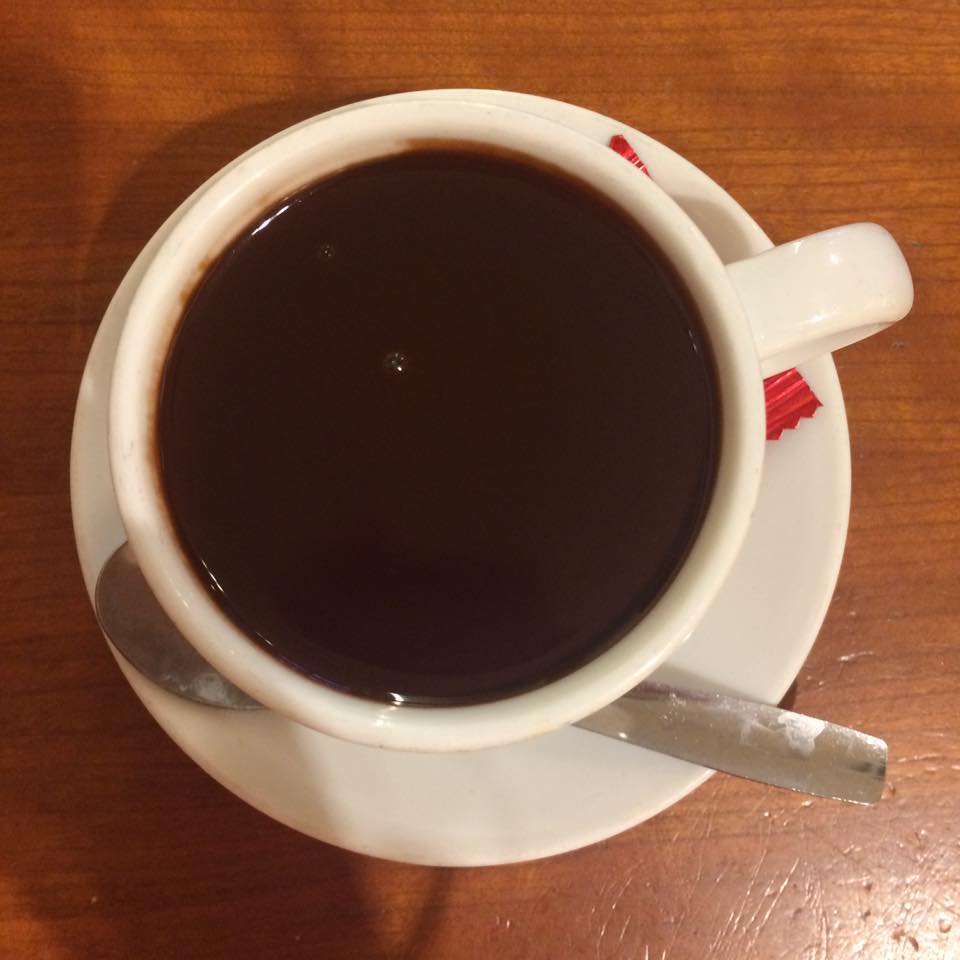 Lesson #5
Laughter is the best medicine. And yes, was well and truly sucked into the artist's joke. Was leaning down to check out the amazing sounds from this blowhole over the ocean…when woosh! Once you know how it works it's hilarious sitting and watching other unsuspecting tourists!
Lesson #6:
Eat with your eyes as well as with your mouth. All of the food in Spain is beautifully presented, but of course none is as beautiful as the food at Arzac – my first ever experience of a restaurant with Michelin stars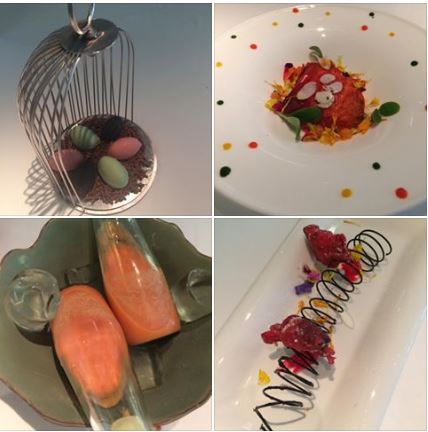 Lesson #7:
Eat your main meal during the day and keep your portion sizes small in the evening. The Spanish eat their main meal at a restaurant socialising with friends during the day, then consume a couple of tapas or pintxos in the evening. You head to a bar then just pay for however many you eat. That way you're not going to bed on a full stomach. Note that all of the pintxos are rich in nutrition- fish, vegetables and breads seem to top the list of popular choices. Seems like a great way of eating to me!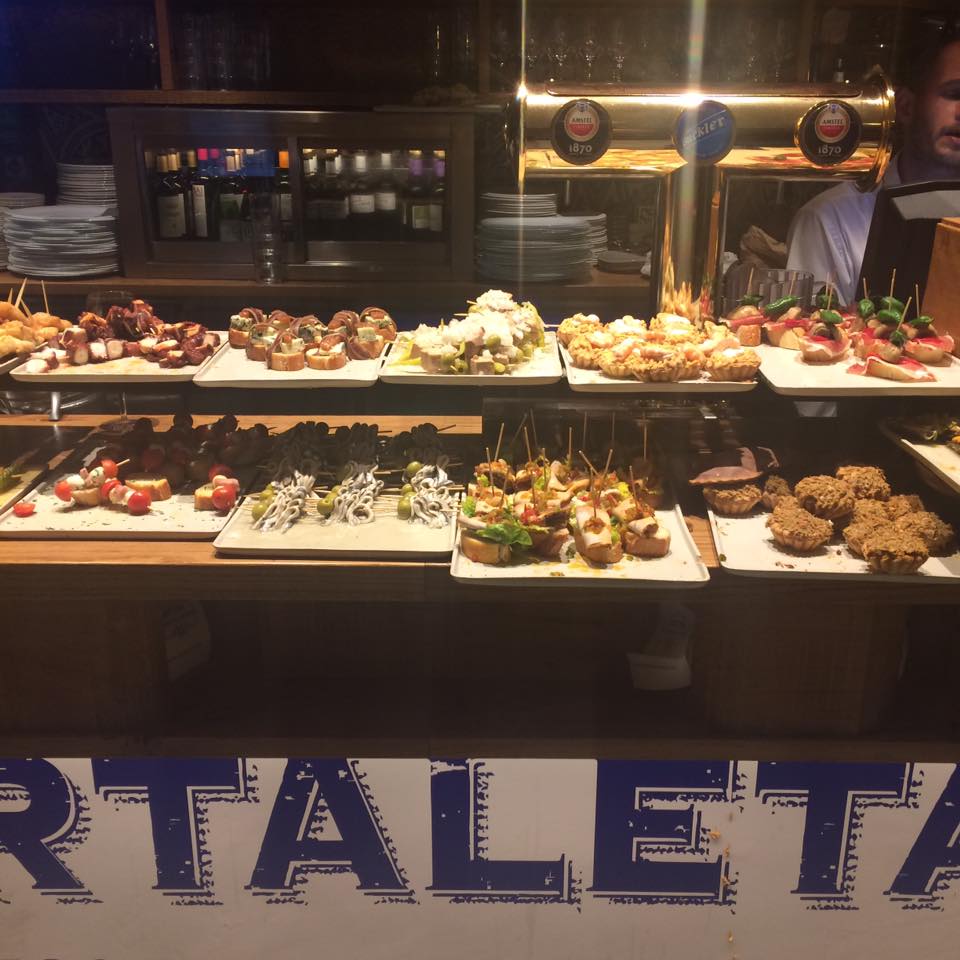 Lesson #8:
If you're going to snack, snack on fresh fruit and vegetables. It was inspiring overhearing a man explaining yesterday to another tourist that he could be assured that the tomatoes were fresh because he'd just picked them up from his uncle's place! It's so good to eat fruit that tastes like fruit, rather than cardboard again!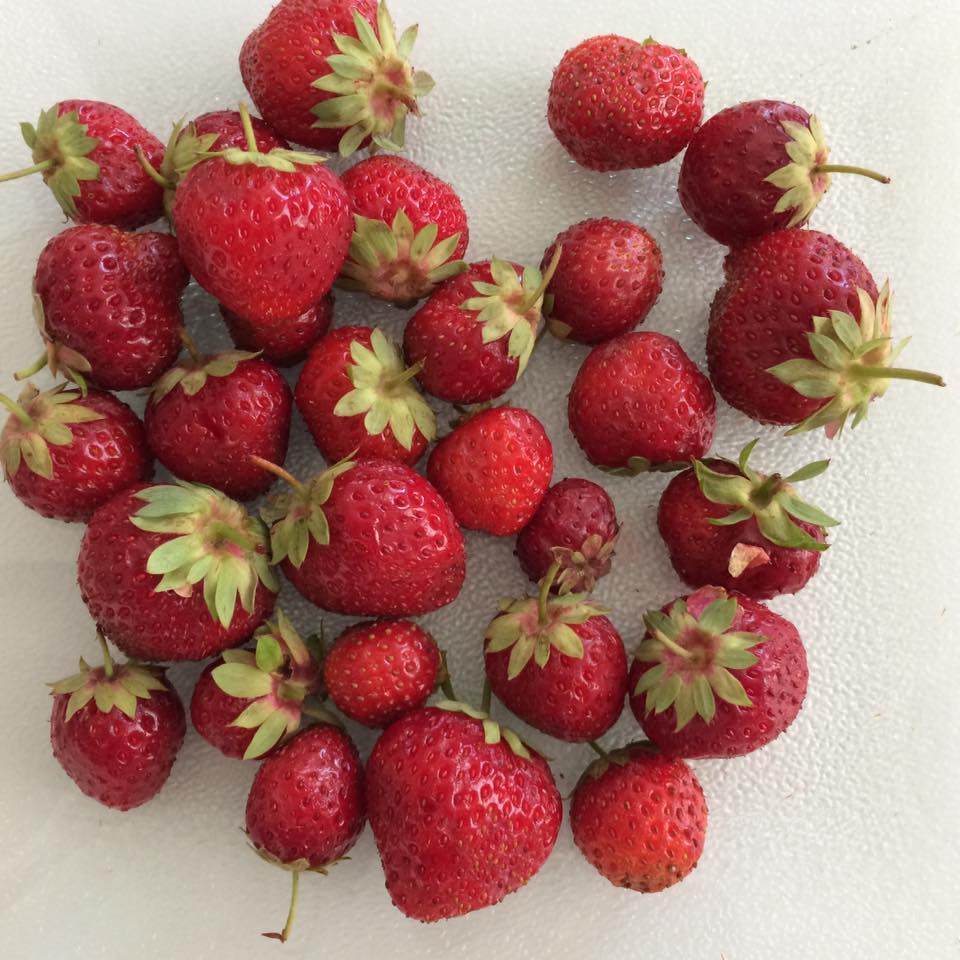 Lesson #9
Eat with your hands. Yes – I know that I'm contradicting myself with this one! I have always recommended eating with cutlery so that you take small mouthfuls, but more often than not, the Spanish seem to eat with their hands…and it seems to make for an even better food experience! Not only do you taste the food and texture with your mouth, but eating with your hands somehow connects you to your food earlier- and more completely. Does that make sense? But be warned: eating with your hands is only to be done when you are eating mindfully; mindlessly eating chips in front of the TV does not count!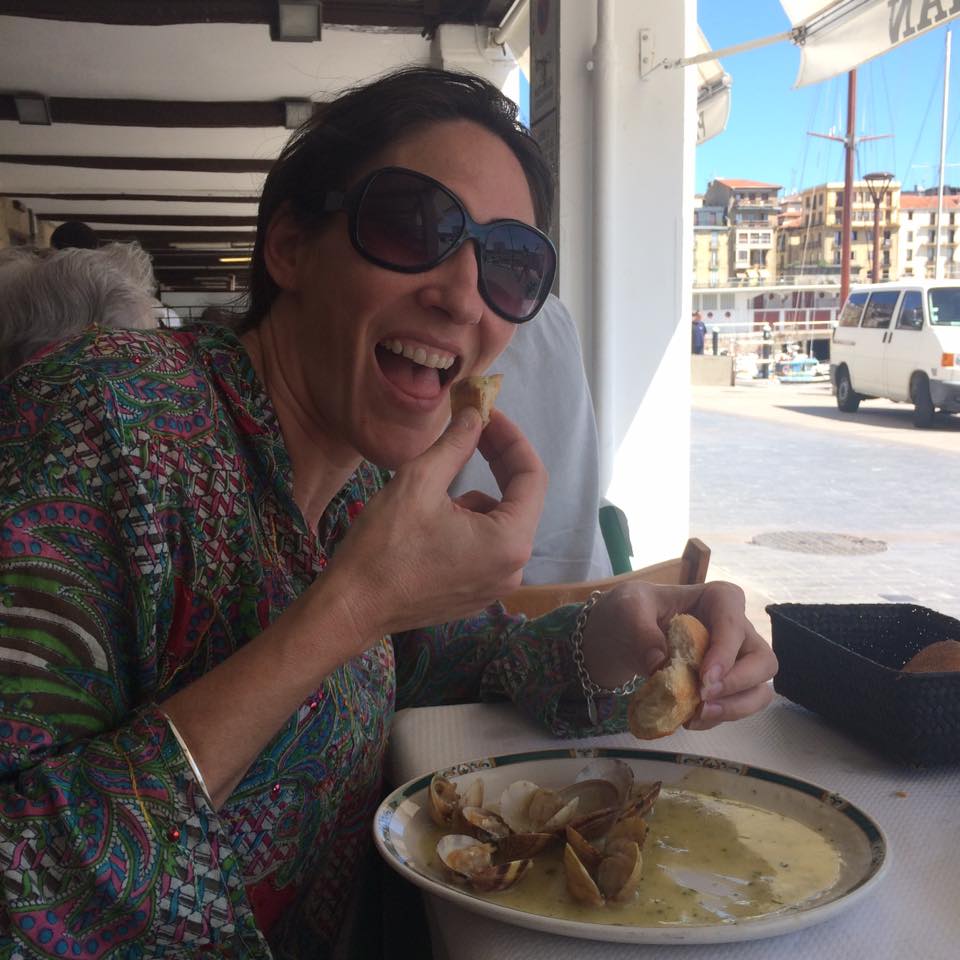 Lesson #10:
Eat LOTS of fish. The fish and seafood here is plentiful and so incredibly fresh! I wish we had more of this at home… Research regularly confirms the benefits of omega 3 from fresh fish for good health.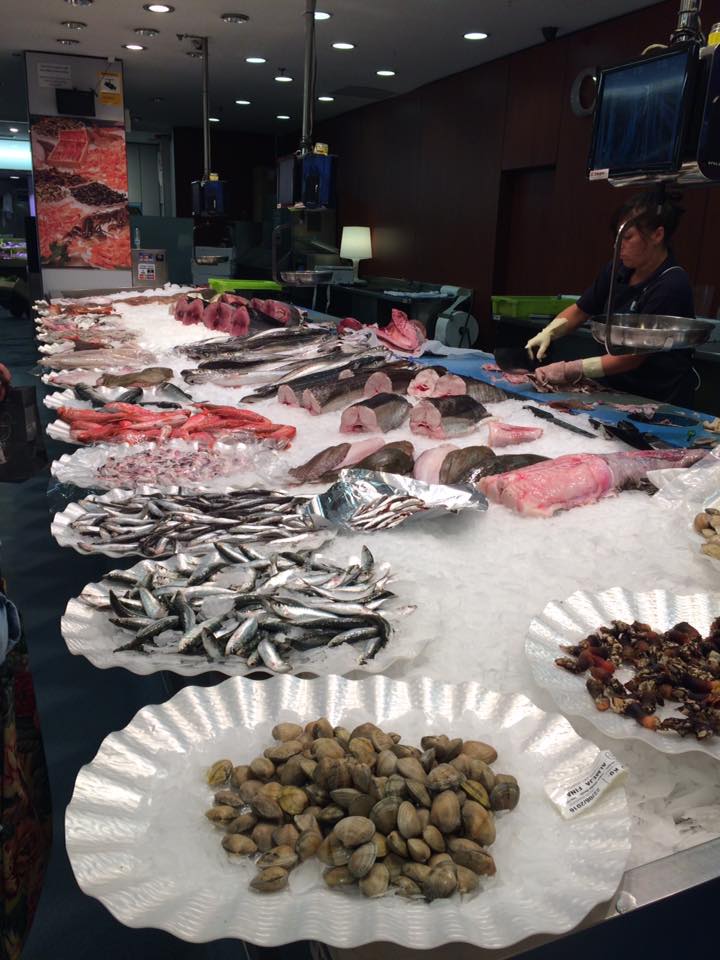 Lesson #11:
Spend time in nature. Although this is something that I personally love to do anyway, it's great to see that the Spanish value spending time in nature too – and they have some gorgeous hikes to find some solitude away from the hustle and bustle of the towns. One thing that I've found particularly interesting on my walks is the vegetation: fig trees, blackberries and more seem to grow naturally in the wild. Hope this inspires you to get outdoors and appreciate our Australian bush or coast sometime soon!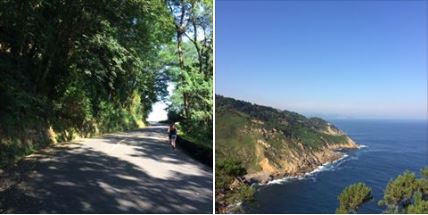 Lesson # 12:
Start your meal with gazpacho or salad. This is one of my favourite lessons from the Europeans. They usually start their meals with gazpacho which is a cold vegetable soup or salad. It's a great way to increase your veggie intake, as well as taking the edge off your hunger to help you slow down and enjoy the rest of the meal.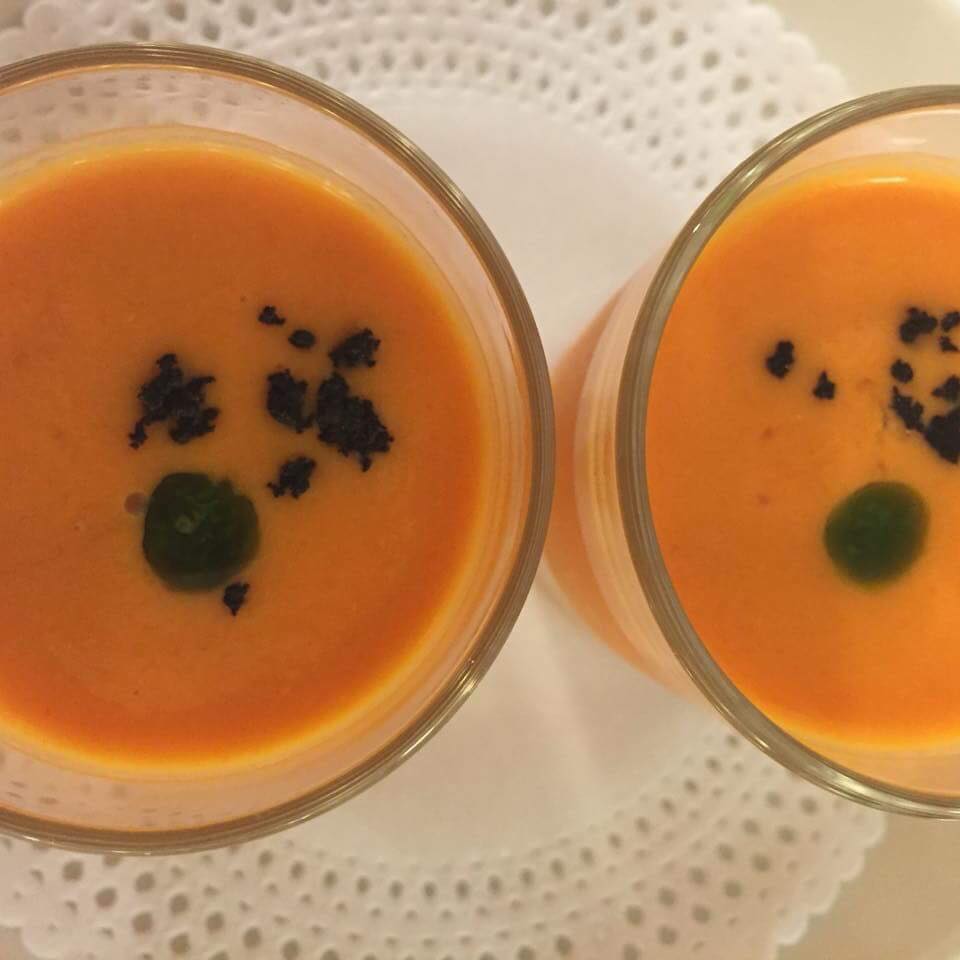 Lesson # 13:
Walk everywhere. I've been amazed that there are more people walking, than driving. It seems that the Spanish will walk or cycle up to an hour away before getting in their car. In a city with so many people, they have significantly less traffic than we do!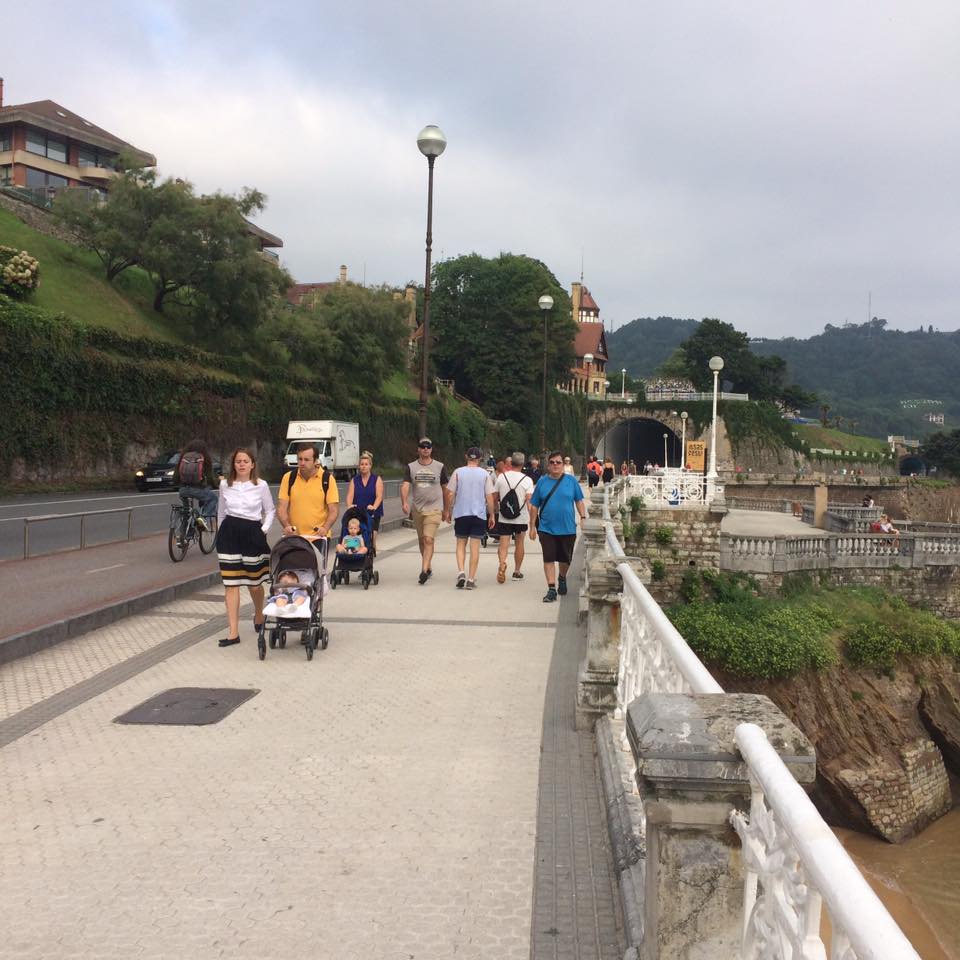 Lesson # 14:
Grow your own vegetables. Although I always try to grow a few of my own vegetables at home, one of my personal goals when I get home will be to expand my veggie garden. Nearly every house here seems to have their own vegetable garden- and not just a few pots, but a huge variety of home-grown vegies. Personally I always find there's nothing more pleasing than picking your own lettuce or getting some fresh herbs out of your own garden to add to a meal- and they taste so much better! It's been great eating tomatoes that taste like tomatoes again, and bananas that taste like bananas! For those that can't be grown (not everyone can have their own banana tree in the backyard), they have fantastic fresh food markets (like our farmers' markets I guess). Makes you actually want to eat your fruit and vegetables again!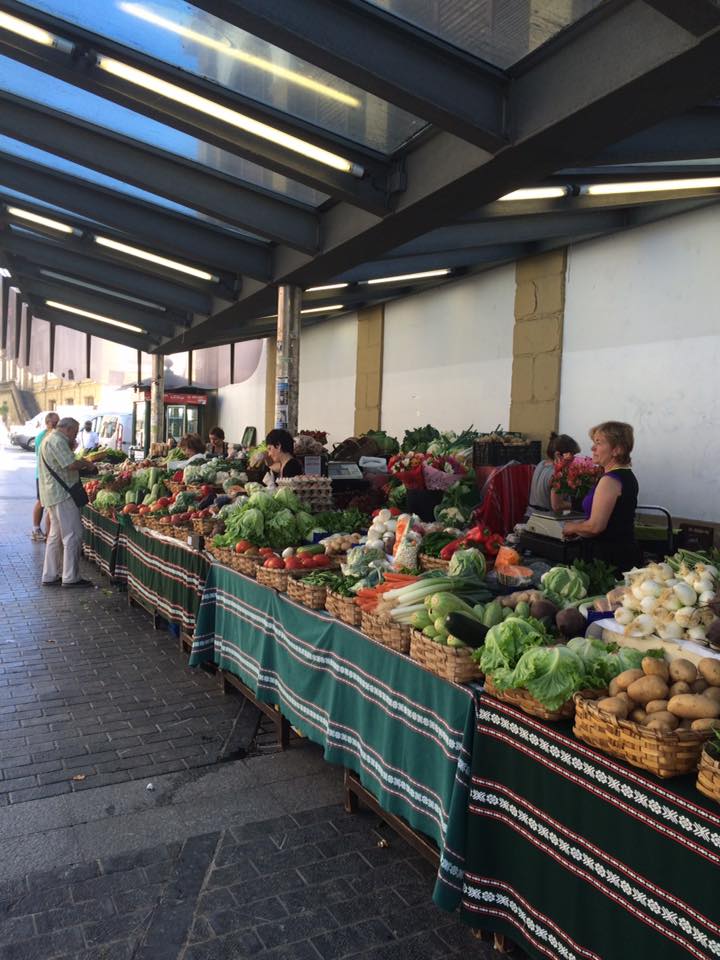 Lesson # 15:
Add a lot of garlic! The Spanish seem to be a lot heavier handed with their garlic than I'm used to- but no complaints from me…I love it! And as I'm here with my best friend and not kissing anyone, I'm safe to eat as much as I please! Garlic is such a nutritious food- it is full of allicin which is believed to be great for our immune systems. I'm not sure if you can see the garlic on this dish – but it was covered in it!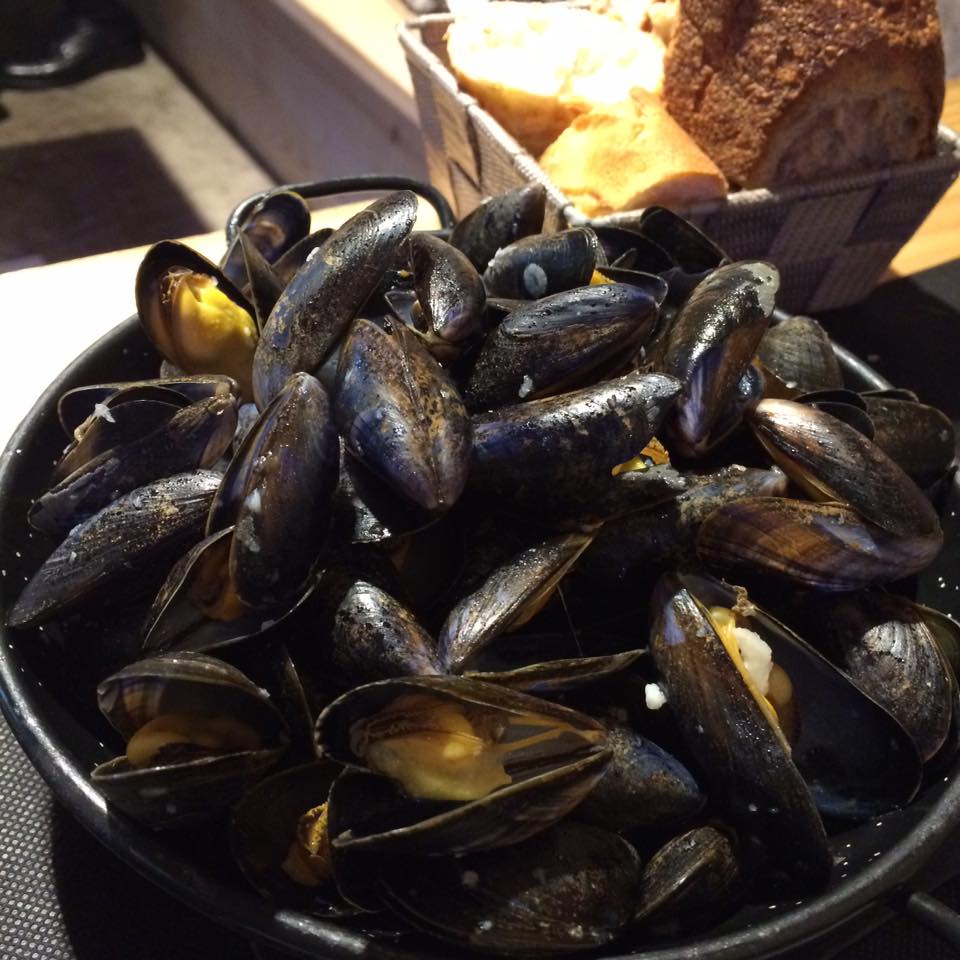 Lesson #16:
Serve water in beautiful glasses. I've been served water in wine glasses, champagne flutes and other special designer glasses which don't have names. Either way, it makes the humble glass of water feel much more special.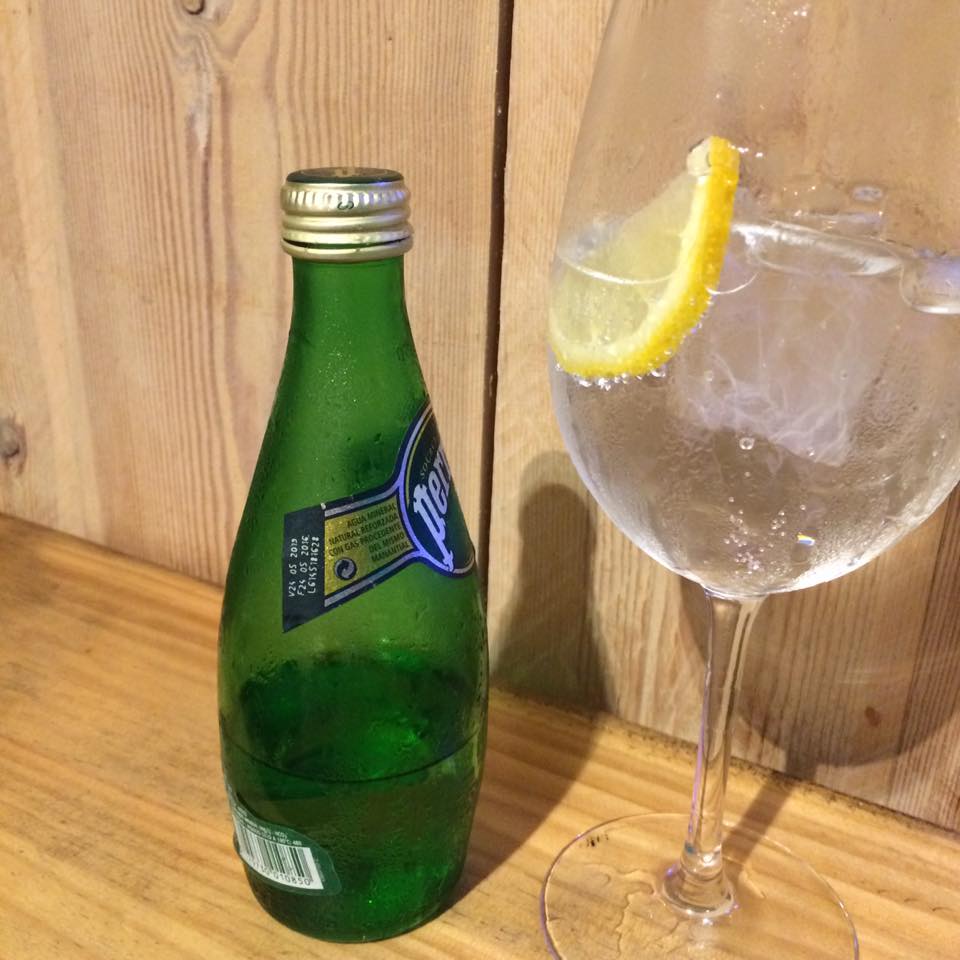 I hope some of my experience in Spain can give you some handy tips to add some spice and colour in your food and your life. Happy eating, or as the Spanish would say, buen provecho!