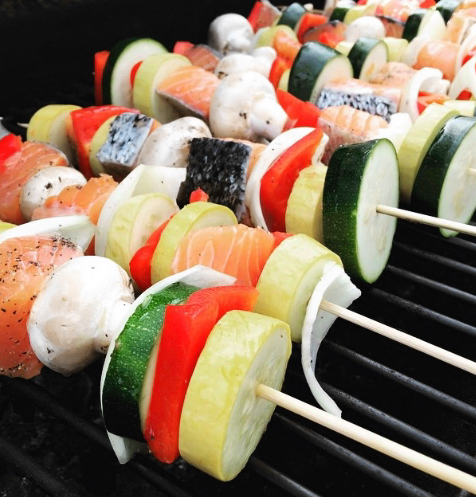 With the days finally starting to warm up, this weeks recipe – 'Marinated Salmon Kebabs' is sure to be a crowd pleaser at any weekend BBQ.
Not only does it include some nutritious vegetables, the salmon is also a great source of omega-3 fatty acids that benefit heart health.
Serves: 4
Ingredients
• 12 bamboo or metal skewers
• 4 (400g) skinless salmon fillets, cut into 2.5cm pieces
• 2 zucchinis, cut into pieces
• 12 button mushrooms
• 1 brown onion, roughly sliced
• 1 red capsicum, cut into pieces
• spinach leaves, to serve
Note: If using bamboo skewers make sure you soak them in cold water for 5 minutes before adding vegetables and salmon.
Marinade
• 2 thumb-sized pieces fresh ginger, thinly sliced
• Juice and zest of 1 lemon
• 1 teaspoon turmeric
• 1 handful fresh mint
Method
Put all the marinade ingredients into a food processor and blitz until smooth.
Thread fish, zucchini and capsicum onto the skewers, alternating between vegetable and fish.
Repeat to make 12 kebabs.
Drizzle with the marinade and grill for 2-3 minutes each side.
Arrange two kebab over a bed of spinach on each plate and spoon over the remaining marinade.
Serve straight away and enjoy!