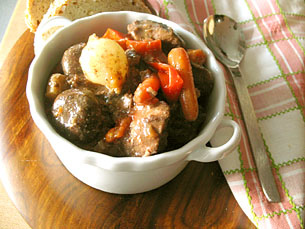 This week's recipe is perfect for the blustering winter nights beside the fireplace. Serve with a nice hot cuppa or glass of mulled wine and bon appétit!
Serves 6
Ingredients:
600g beef (lean gravy beef or oyster blade), diced
2 tbsp olive oil
1 large onion, quartered
2 garlic cloves, crushed
2 cups beef stock
410g can crushed tomatoes
2 carrots, peeled, sliced
2 parsnips, peeled, halved, cut into 2cm pieces
3 celery stalks, sliced
1 swede, peeled, cut into 2cm pieces
Method:
• Season the beef with salt and pepper.
• Heat the oil in a frypan over medium-high heat. Cook beef, in batches, for 3 to 4 minutes or until browned. Transfer to a plate.
• Add onion and garlic to the frypan and cook for 4 to 5 minutes or until softened. Return beef to dish with stock, tomato, carrot, parsnip, swede and celery. Bring to the boil. Cover with lid and reduce to a simmer, cooking for 1 hour and 30 minutes or until meat is tender.