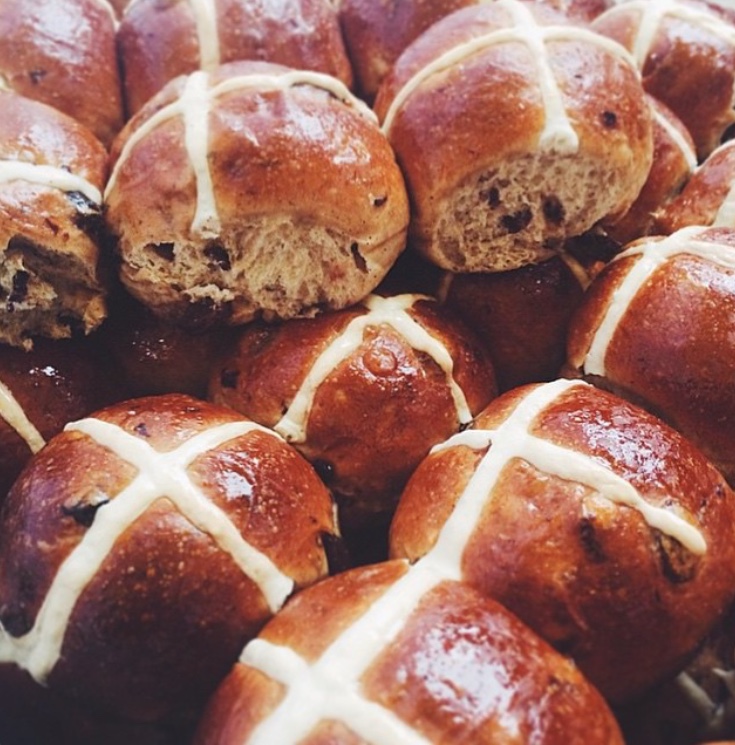 This Easter, why not try making a batch of your own hot cross buns. Here's my recipe for a healthy and delicious version that uses wholemeal flour, vegetable oil and much less sugar than what you might normally find in-store. It's full of fragrant spices, tangy fruit zest along with some dried fruit, and are bound to be popular with your family and friends!
Makes 15
Ingredients
Dry ingredients
4 cups self-raising wholemeal flour
2 tsp ground cinnamon
1 tsp ground all spice
1 tsp ground nutmeg
½ tsp salt
Grated zest of 1 orange
Grated zest of 1 lemon
½ cup dried fruit (eg currants, sultanas, cranberries)
Wet ingredients
40g (3 tbsp) vegetable oil (eg canola oil, rice bran oil)
1 ¼ cup milk of your choice (eg dairy, soy, oat, almond, rice)
1 egg, lightly beaten
1 tsp honey
Glaze
1 egg, lightly beaten
Cross
¼ cup plain flour
2 tbsp water
Method
1. Combine all the dry ingredients in a large mixing bowl, then add the wet ingredients and stir to combine.
2. Turn the mixture out onto a lightly floured surface, and knead for 10 minutes until smooth and elastic.
3. Pop into a bowl and cover with a clean tea towel or cling wrap and set aside in a warm place until it has doubled in size (around 1 hour).
4. Punch down the dough in the centre, then turn it out onto a lightly floured surface and knead for another couple of minutes.
5. Divide the dough into even portions and place them close to each other on a lined or greased baking tray. Cover with a clean tea towel or cling wrap, and set aside until they have risen and are touching each other (around 30 minutes). Preheat the oven to 200°C (180°C fan-forced) while you wait.
6. Brush the tops of the buns with the beaten egg. To make the crosses, mix the flour with the water until it forms a paste (add a bit more water if the paste is too thick). Transfer into a zip lock bag, and cut one of the corners off to make a piping bag. Pipe a cross onto each bun.
7. Pop into the oven to bake for 20 minutes or until golden brown.
Enjoy!