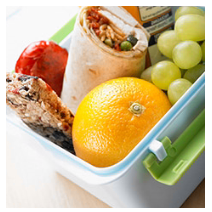 It's that time again…holidays are over and our little ones head back into the classroom (phew!). Although we may get some reprieve from wrestles and the perennial question 'what can I do now??!!', an old problems rears it's ugly head…"what should I pack in their school lunchbox?".
As a dietitian, I've seen (and analysed) many lunchboxes over the years. Let me share my favourite tips for getting your children's lunchbox right:
1. Save time by using leftovers
The quickest, healthiest, cheapest and most interesting lunches stem from last night's dinner. Lunch, being a main meal, should be based around three core ingredients (a protein food, some wholegrains and some vegetables). Rather than starting from scratch, save a little of last night's stir fry and serve it cold for lunch the next day. Using leftovers will also ensure that your kids are getting a nutritious lunch that will provide them with the fuel that they need to get through the afternoon instead of relying on a jam sandwich. Ensure variety by including red meat approximately 3-4 times per week for iron and zinc; fish approximately 2-3 times per week for omega-3; and legumes approximately twice per week for prebiotic dietary fibre.
2. Keep treat foods for social events
One of the most common questions I am asked is whether or not it's ok to put treat foods into your kid's school lunchbox. Although there's nothing wrong with kid's having the occasional treat food, my recommendation is that these should be enjoyed as part of a social event; an ice cream when you're at the beach, some cake at a party or popcorn at the movies, instead of at school when they need the best possible nutrition to concentrate and learn.
3. Ensure food is packed hygienically
No-one wants to eat a brown, squashed banana or soggy sandwich. Instead of just relying on cling-wrap, I believe that it's worth investing in a series of containers of various sizes to pack items tightly so they can't move around. It's also wise to use an insulated lunchbox with a small freezer block, frozen milk or frozen bottle of water to keep the rest of the lunchbox cool.
Nutritious leftover lunch suggestions:
Try these delicious and nutritious lunch box ideas using your dinner leftovers:
• Leftover roast lamb can be sliced and used in a pita pocket spread with hummus, lettuce and carrot.
• Leftover rissoles or meatballs can be sent as a healthy burger on a wholemeal bread roll with sliced cucumber, lettuce and tomato sauce.
• Leftover vegetables can be used to make a salad, simply add fresh salad leaves and a protein-rich food such as a hard-boiled egg, tin of three bean mix or cheese cubes.
• Stir-fry leftovers such as beef strips and vegetables can be enjoyed cold as a salad, simply mix through left over rice or noodles.
• Leftover fried rice is perfect for the lunch box. Add a protein-rich food such as leftover diced meat, chicken or egg omelette.
• Chop leftover roast meat and roast vegetables into bite size pieces and mix with lettuce for a nutrient-rich salad
• Use leftover rice and stir through cooked egg, grated cheese, small tin of corn kernels, chopped capsicum, celery, snow peas and soy sauce for an instant fried rice.
• Cook a few extra beef or chicken skewers at dinner and make into a wrap or sandwich with salad and mayonnaise.